Our Excursion To
MARTINBOROUGH
GLOW WORM CAVE
April 2001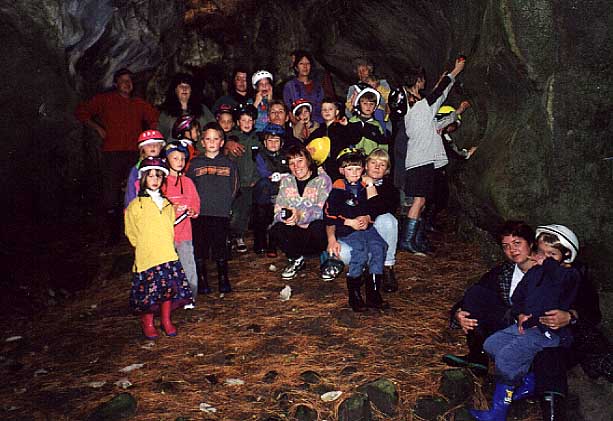 Group Photo, in the middle of the cave system.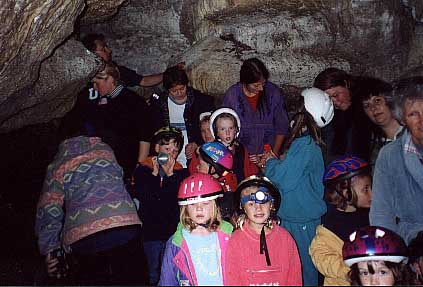 At times we stopped to hear commentary from our guide.
The cave near Martinborough (30 minutes by car, south of our school)
offers an opportunity to explore a very special ecosystem,
as well as the geology. Thousands of glow worms
can be seen, some at close range!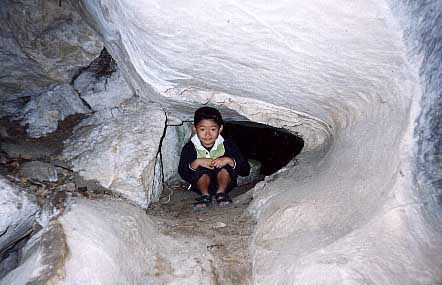 An exciting choice to enter the cave!
(There was also an easier way in.)
It takes half an hour to explore the entire length of the cave.
The beauty surpasses that of New Zealand's famous Waitomo Caves.
Pupils, parents and teachers were all delighted with the field trip to the Glow Worm Caves. It was particularly exciting to see three of the four stages of the glow worm life cycle at once! All the children coped remarkably well in the dark, wet and rocky conditions. It was a fairyland as we turned off our torches and looked about us! Thank you to the excellent level of parent support, some who took time off work to accompany us.