---
Pauline Harter's Music CD
Turn the World Around
This wonderful CD is a favourite for pre school and primary children.
It has 23 songs from all around the world, including New Zealand.
There is a karaoke section so that teachers, parents and children can sing

A few comments about the CD from parents:
"Our daughter jumped out of bed when she heard the music and started singing and dancing!"
"My two children were thrilled to hear the songs. It is the best children's collection I have heard."
"I wasn't expecting such professional sounding music.
It is beautiful, and pleasant for adults to listen to."
"Rainy days aren't so glum anymore. We just put on Pauline's CD ! "
"Hello Pauline ~ Golly, you have as lovely a voice on the CD as you do in person!
Can't resist telling you how much fun I have had the past three days with the children and your songs...especially the Rainbow circle one (I had a ball of multi-coloured yarn) which has made a most wonderful closure song...and the chant, and the months of the year... I think what is appealing to me, is that I like the songs, which so often doesn't happen on kids music tapes etc. Thank you for having good taste, or is it just that our taste is the same!"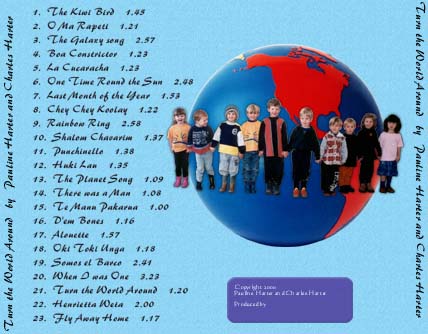 ... and comments from teachers...
"After taking Pauline's Music Workshop at the Montessori Conference,
I purchased her CD and song book, and used them the first day back at school.
It was a great success! Music used to be my weak point of teaching
but now it is becoming a strength."
"I highly recommend Pauline's CD and song book.
Every preschool and primary teacher should have it - not just for Montessorians."
If you have a chance to participate in one of Pauline's music workshop,
go ahead - you will have lots of fun and will learn so much.
My class is so much better with her CD and songbook.
To order Pauline's CD and songbook, send an email to:
juno@paradise.net.nz
Visa and Mastercard accepted.

---
---
http://akiwi.tripod.com/montinfo.html
http://akiwi.tripod.com/photos2000.html
http://akiwi.tripod.com/montpre2.htm
http://akiwi.tripod.com/mont_pho.htm
http://akiwi.tripod.com/web_mont.htm
http://akiwi.tripod.com/mci_info.html
http://akiwi.tripod.com/words.html
http://akiwi.tripod.com/jobs.html
http://akiwi.tripod.com/xmasParade.html
http://akiwi.tripod.com/xmasParade2.html